Important!
Any case, whether it's a personal injury case, Workers' Comp case or SSD case, has deadlines.
Don't wait too long to contact our attorneys for help no matter what kind of case you have.
Services
No matter where you are in the process to get Social Security Disability benefits, get help from our attorneys. We've helped thousands of Kentuckians win disability benefits.
Get Kentucky Courage™ on Your Side
It takes courage to fight a big insurance company after you were hurt in a car accident. It takes courage to ask for legal help when you were injured on the job. It takes courage to win a tough case.
At Morgan, Collins, Yeast & Salyer, we bring the courage you need to go after compensation for your injuries—and get your life back on solid ground.
We're proud to stand up for our fellow, hard-working Kentuckians when you face a difficult time because of health and money problems.
Whether you've been hurt in an accident, or at work, or you need help getting Social Security Disability benefits, our attorneys have the experience to fight for you at every step.
In fact, if you have one kind of case, such as a personal injury or Workers' Comp claim, we can identify other forms of financial relief you could receive, such as disability benefits. Our goal is getting maximum compensation for you.
Call us today to put Kentucky Courage™ on your side.
We Have an Entire
Team

Ready to

Help You
McKinnley Morgan
As a senior partner at Morgan, Collins, Yeast & Salyer, I know the importance of standing up…
Roy Collins
The state motto of Kentucky is: "United we stand. Divided we fall." That principle really guides…
Dan Yeast
Kentucky is my home. I love this state and its people and think it's the best state in America…
Kyle Salyer
I grew up in Johnson County and eastern Kentucky, all the way through Alice Lloyd…
What is Kentucky Courage?
It's Kentuckians who refuse to quit when they haven't gotten a paycheck. The strength to stand up to big insurance companies or the government when you aren't getting a fair deal.
It's the way our attorneys at Morgan, Collins, Yeast & Salyer fight the biggest insurance companies in the country. The way we're prepared to take your case to court if it will get you more compensation.
It's when Kentuckians offer each other a helping hand after a community tragedy.
The strength of our community: to stand up for what's right, to speak up and to take care of our own.
At Morgan, Collins, Yeast & Salyer we call it Kentucky courage when our neighbors stand up for what they deserve. We're here to help. Contact us today to get started.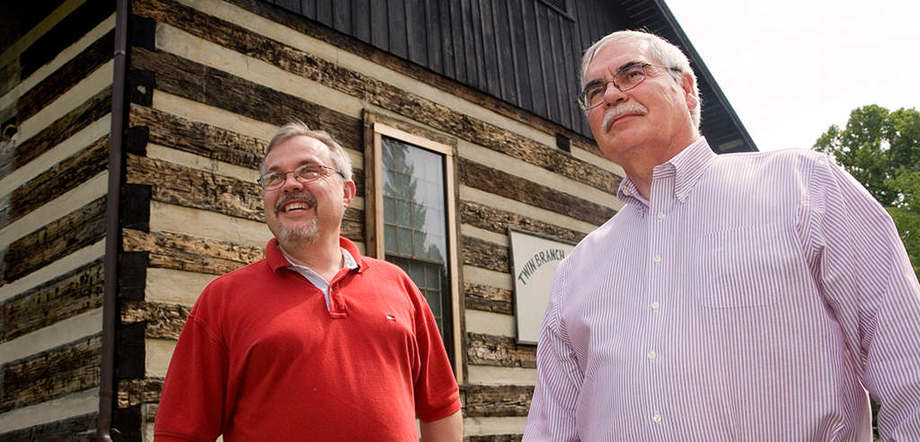 Attorney McKinnley Morgan, shown on the right, has been a member of the circa 1867 log cabin Twin Branch United Methodist Church in London since the early '90s. He is shown here with his pastor, Donald Tackett. McKinnley and his wife, Wanda, enjoy hosting a fish fry at the church each year for 250 to 300 members, neighbors, and friends. The fish fry adds about $3,000 to the church preservation fund each year.